Michigan EIBC Praises Michigan Senate for passing HBs 5143, 5680
The Michigan Energy Innovation Business Council and our members praise the Michigan Senate for approving House Bills 5143 and 5680, legislation that would clarify Michigan's solar tax policy. The bills would classify rooftop solar installations as personal property, preventing solar installations from increasing a homeowner's property value and taxes until after the home is sold. The two bills now await final approval by Gov. Rick Snyder. Michigan EIBC has actively supported the package of bills throughout 2018.
"We applaud the Michigan Senate for passing this common sense, bipartisan legislation that clarifies how solar panels impact property taxes," said Laura Sherman, Vice President of the Michigan Energy Innovation Business Council. "These bills fix the confusing patchwork of taxation across the state when it comes to rooftop solar so more Michigan families and businesses can take advantage of the cost-saving potential of generating their own renewable energy."
National rooftop solar installer Sunrun as well as Michigan-based The Green Panel also lauded the legislation.
"This legislation would establish a straightforward method to determining how rooftop solar installations impact property values, and puts Michigan in line with policies in neighboring Great Lakes states. This is a first step in establishing foundational policies to make investing in rooftop solar more accessible for Michigan families," said Amy Heart, public policy director, Sunrun.
"More Michigan businesses and homeowners have turned to solar energy to power their homes and reduce electricity costs. This legislation will establish a consistent tax structure for rooftop solar installations and help our local solar industry continue growing and creating jobs," said Adam Harris, CEO of The Green Panel, Inc.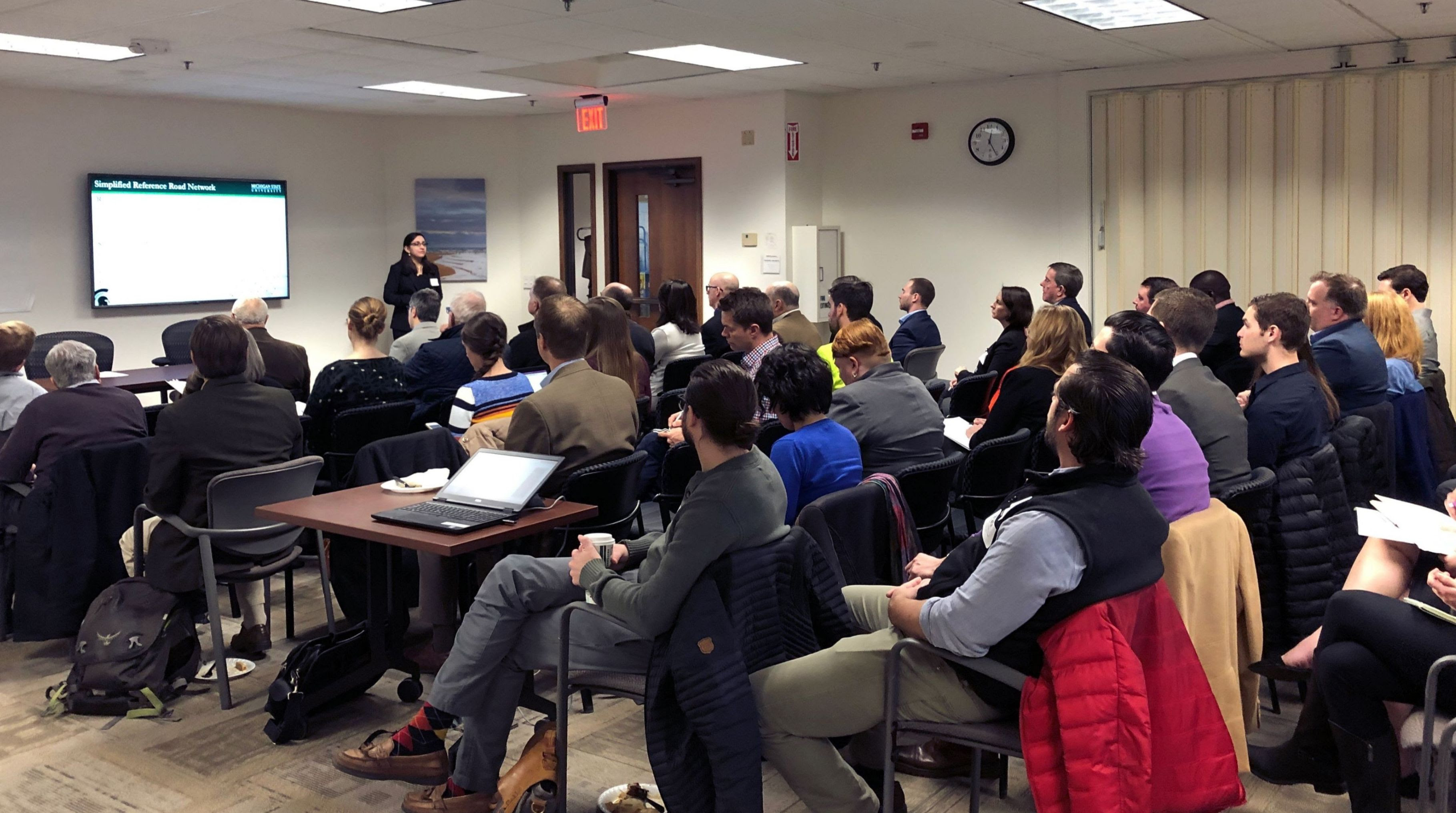 6th EV Convening: Setting the Stage for 2019
Yesterday, the Institute for Energy Innovation and Michigan EIBC hosted our sixth and final EV convening of 2018 at the Michigan Public Service Commission. The event, which was made possible through support from the Porter Family Foundation and the Michigan Energy Office, brought stakeholders from across the vehicle electrification landscape.
Nearly 60 participants came together to hear from speakers on DC fast charging infrastructure, EV charging infrastructure for multi-unit dwellings, and electric school buses. Robert Jackson of the Michigan Energy Office and Dr. Mehrnaz Ghamami of Michigan State University presented on a recently completed study on DC fast charging infrastructure needs and optimization. Charles Griffith of the Ecology Center spoke about an ongoing effort to support the deployment of charging infrastructure for multi-unit dwellings. Finally, Mac Dashney of the Pupil Transportation Operation and Management Institute, shared the most recent developments in electric school bus adoption in Michigan.

In addition to providing an update on these particular topics, speakers identified gaps and challenges facing vehicle electrification in Michigan. Robert Jackson spoke about the need for more research on charging infrastructure for cities and municipalities as well as to support tourism in the state. Charles Griffith identified the need to reevaluate rate design for multi-unit dwellings and the need for pilot projects. Mac Dashney highlighted the need to identify future funding for electric school buses as well as the need to improve inefficient bus procurement processes.

Building from the presentations and previous convenings, Michigan EIBC framed some of the most persistent gaps in EV deployment efforts and asked participants to identify and prioritize key solutions. Participants worked together to identify and elaborate on administrative, legislative, non-governmental, and regulatory solutions that could drive the industry forward in 2019. This work will be combined with key learnings gleaned from previous convenings and shared with the many stakeholders who are working together to make Michigan a leader on electric vehicles and advanced mobility.


Michigan's PACE Market Deploys $17.9 million in 2019
Michigan EIBC member Lean & Green Michigan announced its seventh project of 2018 today. The Hotel Harrington — once a center of social and political life in Port Huron, recently served an assisted living center for seniors before its closing in 2017 — is now being redeveloped with state-of-the-art energy and water efficiency upgrades, including solar PV, high efficiency elevators and significant water conservation measures that will save over 1.1 million gallons of water every year.

With the Hotel Harrington project, the Michigan PACE market has reached $17.9 million of PACE financing deployed in 2018. That's approximately three times the PACE dollar volume from the last three years, combined.
You can find more information on the project here.


New Members
Energy Sciences
At Energy Sciences, our mission is to provide energy consulting services with the utmost integrity, to practice sustainable measures and to be socially responsible for the benefit of our clients, the environment and all living things.
We achieve this by collaborating with commercial, industrial and municipal clients to find practical solutions that reduce energy waste and increase profitability. Taking a strategic and comprehensive approach to energy management and sustainability, we help businesses, governments and utilities optimize the way they use energy and other resources by putting in place sustainable best practices that produce measurable results year after year.
Our team of degreed and licensed engineers, scientists, certified energy auditors, energy managers and lighting efficiency professionals offers a wide-reaching array of skills to meet the energy use challenges of the most exacting buildings, building systems and industrial processes. From energy procurement to the operation of buildings and industrial process equipment, Energy Sciences helps clients identify and eliminate waste and increase their energy effectiveness.
Energy Sciences was founded by former automotive and utility industry professionals, Shelley Sullivan and Frank Schulmeister, who took to heart the business philosophies of Total Quality Management, Continuous Improvement and Operational Excellence. These philosophies undergird everything we do at Energy Sciences and led to the development of the Energy Sciences SiStemTM—a considered and intentional energy management process for success. Contact us to learn more about the ES SiStemTM and how it can help you improve the profitability of your business by reducing your energy waste.
GreenKey Solar
GreenKey is a leader in the growing solar landscape. With over fifteen years of solar industry experience and 200 megawatts of solar development, GreenKey Solar has a strong and ever- expanding success record in developing and consulting solar projects across the country.
Our team has the expertise to manage each phase of the development process – from diligence to strategic partnerships to project management to financing. GreenKey Solar can execute any stage or all stages of a project. We are also flexible enough to offer custom services to clients and partners up and down the solar development and procurement stream.
Michigan Energy Stories
The Michigan Energy Office released a report Wednesday on the best locations for electric vehicle charging stations. The study, conducted by Michigan State University researchers, will guide use of $9.9 million in grants for expansion of charging stations, Energy Office Director Robert Jackson said. Those funds come from the Volkswagen settlement.
Opponents of a wind-energy project in the Upper Peninsula have submitted enough petition signatures to qualify for a referendum. But a key issue is unsettled: when to hold the vote in L'Anse Township in Baraga County.
The Branch County Planning Commission, meeting for the first time since March of 2017, discovered it had several steps to take before considering a proposed countywide ordinance regulating wind turbines.
General Motors said on Tuesday it plans to cut 50 jobs at a suburban Detroit lithium-ion battery assembly plant after announcing last month that it will end production of its plug-in hybrid Chevrolet Volt in 2019.
The Michigan Department of Corrections, in partnership with Consumers Energy, has saved $900,000 by completing energy efficiency upgrades, part of the energy provider's commitment to helping all customers across Michigan lower their energy costs.
National Energy Stories
Michigan Energy Events
Attend Automobli-D January 14-17, an event showcasing suppliers driving mobility technology, V2I connectivity, urban mobility, smart cities, building a mobility workforce, ride sharing, cybersecurity and autonomous technologies.

The North American International Auto Show is Jan. 14-27 in Detroit.

You are cordially invited to participate in the first meeting of the Third-Party Community Energy Projects Workgroup. The meeting will be held on Thursday, January 24, 2019 at 10 o'clock in the Lake Michigan Hearing Room of the Commission Office at 7109 West Saginaw Highway in Lansing. The meeting content will also be available remotely. A website with information regarding this workgroup (including agendas and contacts) may be found at https://www.michigan.gov/mpsc/0,4639,7-159-16393-484912–,00.html.

National Energy Events

Attend the Smart Cities International Symposium & Exhibition Jan. 22-24 in Chicago.

On January 23, 2019, in Chicago, Illinois, the Great Plains Institute and the diverse participants of the Midcontinent Transportation Electrification Collaborative (MTEC) will host a Transportation Electrification Summit. Register here.

The National Association of Regulatory Utility Commissioners (NARUC) Winter Policy Summit is February 10-13, 2019 in Washingtion DC. Click here for more information.




Announcements and Opportunities
Wolverine Power Cooperative seeks a Director of Portfolio Modeling to enhance Wolverine's utilization of advanced analytics and data science. Learn more: bit.ly/2BRTSnP

The new gubernatorial administration is seeking applicants for the transition team and for appointments. Please visit michigantransition.org to apply.